Sketch to Dress : #bespokebride Laura
Last month my beautiful Sister, Laura tied the knot in the most fabulously fun and love-filled day I've ever been a part of. Here we are sharing Laura's bespoke experience with you, showing step by step how we came to design and create her beautiful silk wedding gown and the inspiration that sparked our ideas.
Stage 1- Initial Consultation
We first sat down with Laura to properly discuss ideas for her wedding dress in June of last year. She had brought images and tear sheets with her as inspiration of design features that she loved. A certain cut on the skirt, the train length and the organza detailing of another helped us form a really great picture of the look Laura was wanting to achieve on her wedding day. We knew from this that Laura wanted a structural dress that was elegant and timeless yet contemporary and one that reflected her own personal style that she is known for.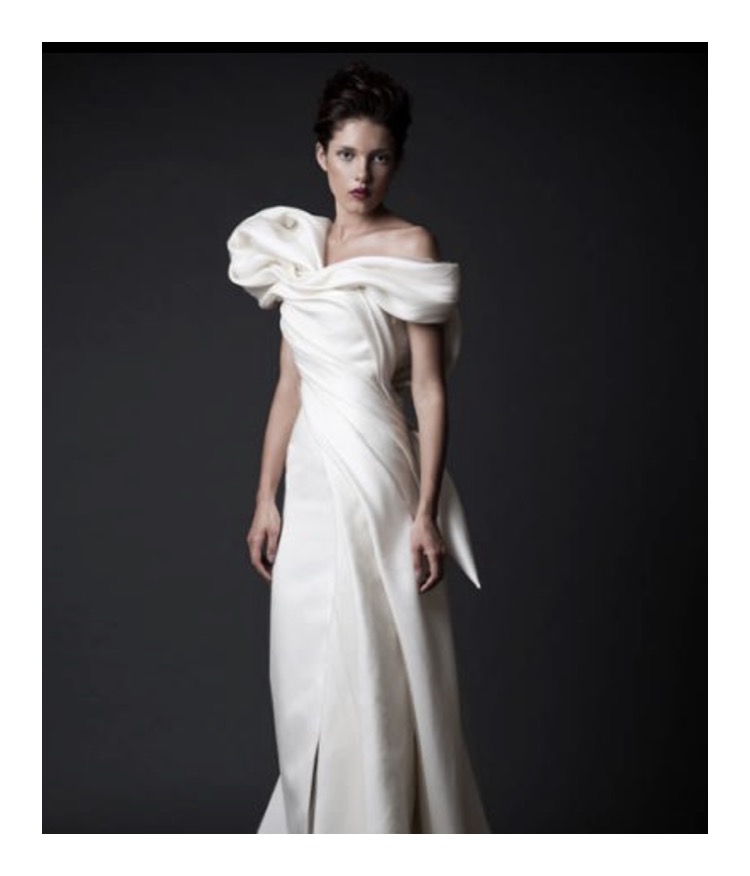 Stage 2- Toile Fitting
We started the design process there and then by using a simple column sheath dress sample of ours and began to drape and pin layers of organza on to the column structure until we had achieved our Bride's desired look. From the toile we were able to establish that Laura wanted a longer train, more fitted cut to the column dress and a lower back to her gown.
Stage 3- Fittings
This is where it all started to get exciting! The silhouette and shape of Laura's dress developed massively from start to finish. We added panelling to her skirt to give it more of a sculpted silhouette that was complimented so gorgeously by the puddle train. Laura also felt the organza was too flat and 'perfect' at the first fitting stage so we added more layers within the folds to give it a more organic shape.
Laura's dress was made using the most beautiful of double weight silk crepe and silk organza and had a fully boned corset built within.
Stage 4- Styling
Finding the perfect shoes and accessories to compliment such a gorgeous gown was her next task. Laura chose a stunning pair of Bionda Castana pointed shoes and a beautiful headpiece by Tilly Thomas Lux, that was of course, bespoke made for her with her dress design in mind.
14th May 2016... Saying 'I DO'
Finally, after the months and even years of planning and prep the day arrives when our Bride & Groom say 'I Do'. Laura and Ross married in St George's Hall and had an amazing evening reception at Camp and Furnace, in Liverpool.
Their day was captured SO perfectly by Claire Penn who's photos really do show what a fun and love-filled day Laura & Ross had. See her preview shots of the day over on her lovely blog... clairepenn.com/blog/camp-and-furnace-wedding-liverpool
All dresses seen below made by Jessica Bennett Bespoke Bride.
Bridal Gown, Bridesmaids, Flower Girl, Mother of the Bride, Mother of the Groom & Groomsmen's Ties and Pocket Squares.